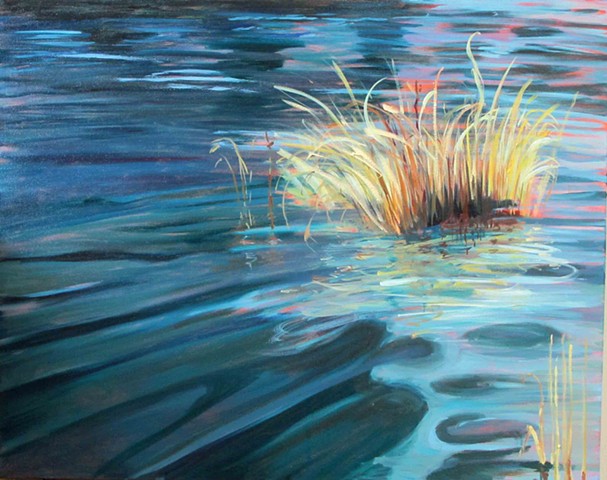 ENGLISH ( Faites défiler pour français!)


To view paintings, prints and other artwork click on the image above and then scroll down to choose your portfolio category.
A life-long love of nature motivates much of my work. I am fascinated with the forms, colour, and movement of animals, trees, and water. I like to paint a variety of subjects and I work in different media including oil, acrylic, pastel, collage and print making.
I studied at the Columbus College of Art and Design for a year. I was later trained for gainful white-collar employment but quit to raise my two children and went back to painting as they grew.
I take inspiration from a number of painters but, if I had to choose, I would say that I am most influenced by Franz Marc, Paul Cézanne and the Canadian group of seven.
I live in the middle of the woods in La Minerve Québec. Many of my paintings are of the landscape and wildlife that I observe there. I work from direct observation and from my own photographs.


FRANÇAIS
Pour voir, les peintures, les gravures et les autres œuvres artistiques, cliquer sur l'image ci-dessus et faites défiler vers le bas pour choisir la catégorie du portfolio.
Mon travail s'appuie en grande partie sur toute une vie d'amour de la nature. Je suis fascinée par les formes, la couleur et le mouvement des animaux, des arbres et de l'eau. J'aime peindre divers sujets et je travaille avec plusieurs media dont l'huile, l'acrylique, le pastel, le collage et la gravure.


J'ai étudié au Collège d'art et de design Colombus durant un an. J'ai ensuite suivi une formation pour un emploi de col blanc rémunérateur que j'ai quitté pour élever mes deux enfants, et pendant qu'ils grandissaient, je suis retournée à la peinture.
Je suis inspirée par plusieurs peintres, mais si j'avais à choisir, je dirais que suis surtout influencée par Franz Marc, Paul Cézanne et le Groupe des sept canadien.
Je vis au milieu de la forêt à La Minerve, au Québec. Plusieurs de mes peintures illustrent le paysage et la vie sauvage que j'y observe. Je travaille à partir de l'observation directe et aussi de mes propres photographies.